Product Name: Vans SK8-Hi Canvas Unisex-Adult Hi-Top Sneaker
Fit: 86% fit as expected
Price: £32.50 – £279.90
Place to Buy: Amazon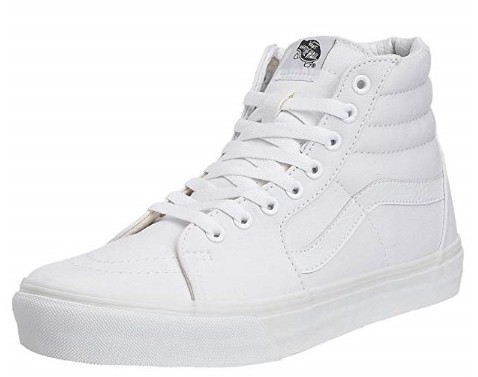 Showcasing the now-iconic Vans sidestripe, Vans SK8-Hi is another vans' line of shoes that is almost just as famous as its big brother, Vans Old Skool. The Vans Old Skool is known for its popularity in the world of athletes, skateboarder, bikes, musicians, artists and sneaker fans. Vans Sk8-Hi has been trailing after the popularity of Old Skool since it was introduced in 1978 as "Style 38". Vans Sk8-Hi has good resemblance to the Vans Old Skool. However, the elevated quilted collar design in Vans SK8-Hi differentiates the shoe from the iconic Vans Old Skool shoe. This innovative shoe took the quality of skate shoe to the next level – this, in return, helps skateboarder to avoid some level of abuse to the area around their ankle. From skateboarders perspective, Vans SK8-Hi helps protect their bones from skateboard hitting them – this is very correct. What must be noticed is the new-look that it brought. In the 1980s, the act-to -footwear (Fans can design their own pairs) was one of the most look changing innovations that had ever happened to SK8-Hi. The popularity of the shoe, since then continued to grow. Vans SK8-Hi is now known worldwide and has become must have trainer for most fans.
The following are the features you would be expected to find in Vans SK8-Hi.
Upper: Full Canvas
Inner material is usually textile
Outer Material: Textile
Heel cushioning for extra comfort
Closure: Lace-Up (8 holes)
Gum rubber sole
Padded ankle close
Heel Type: Flat
Logo: Vans logo ton the heel
Re-enforced toe caps for durability
Signature rubber waffle outsoles
The SK8-Hi takes a place in the list of Vans most relevant styles today. Its design possesses the quality that distinguishes it from the others. It is referred to as the taller version of the classic Vans Old Skool. This is one of the reasons it is one of the Vans most sought for shoes. SK8-Hi can be found in different designs and colorways. The Vans SK8-Hi True White is another version/design of Vans SK8-Hi that features heel cushioning for extra comfort and others traits you would find in SK8-Hi. The shoe comprises 92% canvas and 8% synthetic. An important note on Vans SK8-Hi True White is, according to Vans official website, the materials used to manufacture the shoe are free from animal by-product and hence 100% vegan.
If you are deciding whether to buy or not buy SK8-Hi True White. Do not stress yourself much. In order to help you make easy decision, a good research of what users think about the shoe has been done and their views are categorized into comfort, satisfaction and dissatisfaction. The other helpful information provided to ease your decision-making stage is the customer rating and a quick video showing how the shoe looks on feet.
Comfort
Comfort is one of the things users would want to experience during the life cycle of their shoe. It may be the way the shoe looks on them or how the shoe fits on their leg when they put it on. In this category, the users talk about what they think of the shoe in terms of the comfort it offers.
Many users regard the shoe as perfect fit and very comfortable
Majority of users recommend it for its comfort
Clean design and comfortable are the words some people used to describe it
Many reviewers describes its comfort as, "as expected"
Some users describe it as very good and genuine
Reviewers say it is very comfortable and easy to put on
Satisfaction
Satisfaction is what everybody looks for when they buy a product that looks dope. Customers will definitely not incline towards buying a product that will not meet their expectation. If someone bought it because of its attractiveness and regrets buying the shoe after using it for some weeks or months, the person will not even think of buying that type of shoe again unless there is an upgraded version that he wants to try. For some people, they would not make a mistake of not going through the reviews on the shoe before they put their money on it except they do not have much time to go through reviews. It is always helpful for people to know the value of a product before buying it. Since you are one of those that want to know the thoughts of users on SK8-Hi True White, the following points are what they think of the satisfaction the shoe offers.
Majority of users recommend Sk8-Hi True White due to the comfort it offers
Many users say they would not expect more, based on the price
Stylish, great quality, comfortable and durable are the words some users used to describe SK8-Hi True White
Many users describe it as fit as expected
Reviewers admire the quality of the shoe
It is a great trainer for summer are what many reviewers say
Some users are happy with the protection and comfort it provides for the ankles and the rear part of feet.
Accommodation of wider feet towards the toe area is one the reasons some people love SK8-Hi True White
Many reviewers are happy because the shoe is as it was described
A customer says, "Boyfriend absolutely loves this. Had them for a year and they have not disappointing. Just be careful when washing as they went a bit yellow."
Many users say the shoe looks nice and sturdy
Dissatisfaction
Sure, this content would look very incomplete without this section. The users in this section express their thoughts on the negative part of the shoe functionalities.
Some users complain that the shoe runs big and advise people to buy half a size down their normal shoe size
Few users say it gets dirty easily but can be easily wiped off too
Very few reviewers say after a couple of weeks the insole was peeling of and the adhesive was sticking to their socks
Rating
Obviously rating is one of the very important ways of finding out the popularity, quality, comfort, durability and some other necessary factors that makes shoes worth putting money on. And since it is such a helpful hint for people to make a quick decision, it is very important to include it in this content. After some hours of research, the following chart provides the rating breakdown obtained on SK8-Hi True White.
Customers rate the shoe 4.5 out of 5 stars on Amazon
A Quick Video
How to Clean Sk8-Hi True White
Conclusion
The shoe does not only popular for skateboarders. Its popularity has no limit both on skateboard and off skateboard. It seems like it looks more attractive when used as a lifestyle sneaker. Men and women love the shoe, probably because of it comfort, quality and good price. Whatever the reason, SK8-Hi True White is a must have for Many Vans fans.
Hope you like the quality of this content. Please leave any question below. If you do not have a question, please spare a few seconds to comment below whatever you have in mind about this content.