Adidas Originals Supercourt is one of the Adidas famous classic shoes. This trainer/sneaker is fantastic for daily wear. It can be an excellent addition to your shoe collection. 
Adidas has been making classic shoes for a long time, and there are many classic trainers in their collection, such as Adidas Superstar and Stan Smith. 
But, Supercourt is unbeatable due to its features, quality and look. It was introduced almost 50 years ago, and it has experienced many changes in design, sole, shape etc. 
At first, it was designed as a court shoe to play in the court. It was completely white. Now it can be found in many colourways, and you can wear it for any purpose with any casual dress. 
The company tries to make shoes comfortable, durable and inexpensive.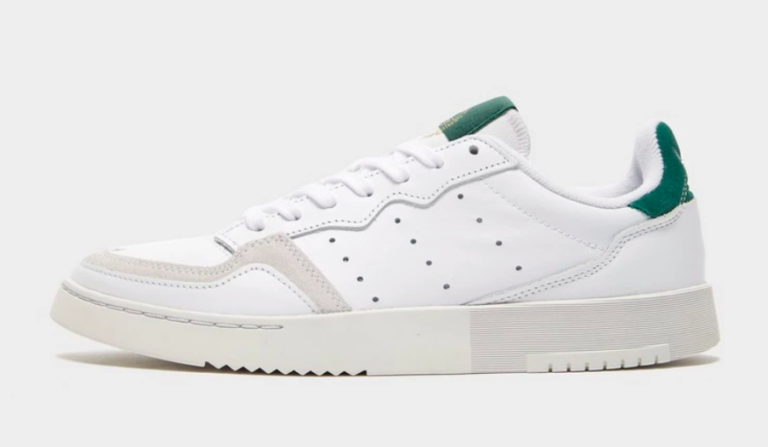 There are many shoes and a range of classic sneakers, most of them are very expensive. 
However, Adidas Supercourt is affordable and worth the money. Spending a few pounds in the shoe could be an excellent investment you will not regret. 
Most people love to wear this shoe just because of its simplicity, comfortability and its nature to fit with any casual dress. 
Other than offices, you can wear it for any purpose you like.
We have spent a few hours on reading and analysing the reviews and comments of customers, users and professionals. 
After pondering on the reviews of collectors and experts, we have driven the following thoughts.
• The shoe is extra comfortable; you can wear it all day. Most customers are happy with the comfort it brings.
• It is breathable and keeps your feet dry and clean.
• It is affordable and appealing; you get everything at a reasonable price.
• The sole and upper are very durable.
• There are many colourways and sizes available for men, women and kids. So, everyone can enjoy this classic shoe.
• The outsole has a good grip due to the presence of different textures which refrains you from slipping.
• The leather of the upper gets creased a little.
• It gets dirty soon because of its light colour. Further, it is sometimes tough to clean it.
• Some customers say that it is a little wide for them.
In the following video review, Chris Jack shows how the Adidas Supercourt look on feet and goes on to talk in detail about the classic kick.
According to him the Originals Supercourt is a perfect semi-formal and smart casual trainers for anyone.
Check out his full review on the trainers below:
Adidas Originals Supercourt has a lace-up closure; thus, it can loosen or tighten with ease. 
Adidas Supercourt Sizing
There is a wide variety of sizes. It is available for men, women, young (8-16 years) and kids (4-8 years). Therefore, it is available for everyone. 
Adidas Supercourt Fit
The fit of the shoe is excellent, but some users have experienced a wide fit. So, this is good for people who have wide feet as well, while others can easily customise the fit of the shoe using shoelaces.
Supercourt has a classic retro style which looks appealing with all kinds of casual dresses. It seems like tennis court shoes, but it is more than that. You can wear it for school, work, party etc. 
Everyone, including men, women and children can wear it with casual dressing. 
It has a unique design with three-dotted stripes fo perforations. The perforations serve as a source of breathing or airflow in and out of the interior.
The lace goes through seven holes that provide a stylish zig-zag structure. It helps to tighten the shoes and allows your feet to fit in the shoe perfectly.
Outfits for Adidas Originals Supercourt
Men can wear them with jackets, jeans, shirts, t-shirts, sweaters, trousers, shorts, sweatpants and any other kind of casual dressing. It fits with everything except your professional attire.
Women can wear them with skirts, tops, shirts, blouses, leggings, etc. Its classic court design looks appealing with casual dresses.
Everyone can wear it, it has dozens of colourways with different shades, but in most cases the dominant colour is white. 
You have a choice to select anyone according to your style. The sole has excellent and beautiful lining texture on the heels, and there are teeth on the mid-sole, which looks stylish. 
The leather pieces of different designs are stitched together. Moreover, there is a logo at the back and a few countries standard size value at the front of the shoe.
The upper is entirely made of leather which makes the shoe durable. You will notice a little crease at the front after using the shoes, but that is normal. 
For a stylish look, different leather pieces are stitched together. Don't worry about the pieces because they will not come out.
The midsole of Adidas Originals Supercourt is made of rubber. 
There is an extra cushioning and padding inside the shoe, which allows your feet to feel comfortable whenever you wear it. 
There is a texture on the midsole on the heel area, which is visible and appealing. 
The midsole of the Adidas Supercourt shoes provides additional support. Thus, Supercourt shoes are very soft and supportive; you can wear them for the whole day.
The outsole of the shoes has different textures and patterns that make an excellent grip on the ground. 
The purpose of different textures is to avoid slipping. The outsole is elevated from the front, which allows you to walk with ease.
Adidas Originals Supercourt is not a new shoe; it has been in the Adidas classic collection for 50 years. It was first introduced almost 50 years ago as a court shoe.
Like all court shoes, this was also white. But, with time, Adidas introduced different colourways that are suitable for wearing not only for a tennis court but for other purposes as well. 
There had been changes in the design and material to make it more comfortable for the users. 
Now there are many colourways available, and you can use this shoe for various purposes.
In 2019, Adidas launched the Home of Classics which has all the classic shoes including Stan Smith, Superstar 90, Rivalry Lo, Torsion Comp and a few more. 
This collection also had Adidas Originals Supercourt. So, you can imagine the importance of the shoe.
Final Thought
Adidas Originals Supercourt is a super cool shoe that should be in everyone's collection.
It fits with every kind of causal dressing, so you can wear it with any dress that matches with the shoe.
It is comfortable as well, and it has soft paddings in the insole. There are many colourways available for men, women and kids.
Its excellent classic retro style looks appealing and fantastic on the modern youth as well.