Everybody likes to wear shoes. Unlike women, men may not seems very obsessive when it comes to shopping for shoes. However, no matter how poor a person is he deserves to have some pairs of shoes and nice dresses in the closet for any big occasion. Apart from big occasions, don't we all deserve to put on some nice shoes before we go out? Not everybody likes to be looked down on, especially men. Gentlemen likes to show that they have enough to care for themselves and cautiously avoid embarrassment that may come from the way they dress.
People usually take notice of others, not only because of their dress but also because of the shoe they put on. So, it is important to choose the sneaker that fits your style in order to look good when you're out there. It might be your best friend's wedding ceremony or birthday you want to attend. You would not want to wear the shoe that does not fit, trust me.
Having the best shoe from the best brand has it own advantages. Over the years, there are some brands that have got the interest of many men and women. These brands are known to be the most famous brands when it comes to high quality shoe supply for both men and women.
The following are the name of the brands that are most likely to provide you the best choices of shoes
Nike
The company called Nike, inc is an American multinational corporation which designs, develops, manufactures and engages in worldwide marketing and sales of different types of footwear. The company headquarter is based in Beaverton, Oregon. It is known to be the world's largest supplier of athletic Shoes and employed more than 44,000 people worldwide. The brand was valued at $19 billion in 2014, making it the most valuable brand among sports businesses. Their value in 2019 worths $29.6 billion. The company ranked No. 89 in the 2018 Fortune 500 list of the largest United States corporations by total revenue.
The types of shoes you can get from Nike are Trainers, Football Boots, Running Shoes, Netball Trainers, Golf Shoes, Skate Shoes, Trail Running Shoes, Basketball Shoes, Dance Shoes, Weightlifting Shoes, Tennis Shoes, Rugby Boots, gym Shoes, High Tops, Cross Training Shoes, Sandals & Slides.
Adidas
Adidas is a global company that was established in Germany. Its employees are amount to nearly 57,000 . The company global headquarter is based in Herzogenaurach, Germany and has employees from about 100 nations working there. The company has a good record of producing sports and sports lifestyle products with independent manufacturing partners worldwide. Adidas generated € 21.218 billion in 2017. The company mission is, according to their site,  "to be the best sport company in the world".
Testoni
Have you just got your new job or do you have an important celebration to go and thinking which new shoe you should buy. You might want to check what Testoni has to offer before going any further. The company gets its root from Italy. it produces and sells shoes in Italy and internationally. Their products are popular among the opulent business class. The shoes are hand-crafted and much fitted for official as well as formal occasions. Testoni headquarter is located in Argelato, Italy.
Gucci
Gucci was founded by Guccio Gucci in 1921. The company is an Italian fashion and leather goods brand. Men have chance to choose different desgns of either formal or casual footwear. Gucci experiments with different materials and uses only the best for their men shoes. Gucci makes effort for producing products with higher quality and durability.
Jordan
Jordan is one of those brands out there that will offer you good looking footwear. To let you have some knowledge on how good Jordan is. The following are the comments from Jordan customers.
"I think Jordan's are so lit, Jordan's will go with your style what ever Jordan clothes you wear, you will make people want to buy Jordan's"
"The shoes are just wow I have 2 pairs and when I put them on I feel like I'm flying"
"They should be first because they are really good basketball shoes and a cheap price that's worth a pair of shoes like that "
"Jordans are fresh I got retro7 and other nice one but I personally like Jordans adidas and nike"
"I think Jordan's are very comfy while I played basketball against different middle schools"
"I can't believe that Jordans are not in 1st. I'm going 2 ask for them for Christmas. I LOVE JordanS"
"I think Jordans because Michael Jordan is my favorite NBA player"
"Jordans should be first because they are good for basketball they have a really good price for shoes like that"
"Jordan's are the best shoes ever because they are stylish, durable, and make your feet feel like heaven"
Reebok
Reebok is known to be a global athletic footwear and apparel company. The company started operating as a subsidiary of adidas since 2005. The company is concerned in the production and distribution of fitness, running and crossFit sportwear including clothing and footwear. Reebok also oficially sponsors footwear and apparel for Ultimate Fighting Championship (UFC), Spartan Race, Les Mills and CrossFit.
Vans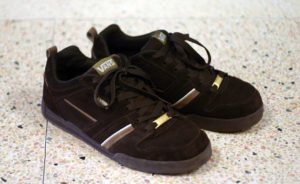 Below are the few of the comment from vans fans.
"These used to be the best shoes money could buy. I'm pretty sure they started making them overseas and the glue that they use is nothing like the glue that they used. They fall apart 10 times faster. As a matter of fact I'm probably going to look elsewhere for shoes unfortunately. I miss the old vans made in America."
"Why are Reebok higher than vans? It was best shoes not best running shoes! These are great to wear when going out with friends and will never get a "what are those! " Comment, they work with jeans best but go with a variety of outfits."
"Vans are amazing. The product they made is great. Quality is good material is good long lasting and the best thing is they don't cost you so much. They are made for the youths. It can compete with Nike or adidas or puma. Those sneakers lovers must check vans shoes."
"Vans let you express your style freely! Whether your style is skater, goofy or something in between, Vans has something for you! And the price isn't bad either!"
Conclusion
The brand mentioned above are not ranked based on the quality of their shoes .Those are just few names of shoes brands that worth checking out if you decide to buy a high quality footwear. As already mentioned, the brands are few of the many. Some other famous shoes brands are Converse, Puma, Under Armour, Timberland, Bruno Magli and so on.