Product Name: Nike Men's Air Max 97 Gymnastic Shoes
Where to Buy: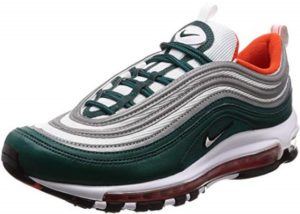 Nike Air Max 1 was first introduced in 1987 with visible Air sole unit in the heel. Three years later, Nike Air max 90 came into market with larger visible air window. In 1997, the Nike Air Max 97 was introduced showing visible full-length air sole unit. The first thing people notice in Nike Air Max 97 is its smooth, shiny and japan's bullet trains appearance. Air Max 95 body was inspired by human anatomy. However, the wavy lines on the Air Max 97 body represent the wave lines formed by a drop of rain on a puddle and its look resembles the bullet trains called Shinkansen. It comes with hidden lacing which makes it more distinctive from other sneakers. The overall design makes Air Max 97 more innovative and good looking. The shoe can guarantee both casual and athletic look.
Nike Air Max 97 features:
Textile/ Synthetic for the upper material
Textile for the inner material
The insole is made of textile
Closure: lace up
Air max logo can be found on the heel
Outsole: Rubber
Profile: waffle
Nike Air max 97 line of Nike shoes is available in different styles and designs. You can find the ones designed for running, gymnastic, fitness, training, etc. It comes with different names such as Nike Air Max 97 Essential, Nike Air Max 97 OG, Nike Air Max 97 Premium, Nike Air Max 97 QS, Nike Air Max 97 Plus, Nike Air Max 97 JDI, Nike Air Max 97/BW, Nike Air Max 97 SE Reflective, Nike Air Max 97 CR7 (named after Cristiano Ronaldo), Nike Air Max 97 Ultra 17, and so on.
The fact that the shoe has full length air sole unit creates the feeling of walking on air for anybody that put it on. Though the shoe may not be the most famous shoe Nike has ever produced, one can agree that it is indeed a nice shoe with a very thought through design. Nobody is here to judge the shoe based on the appearance or how good looking it is. Many people that have not bought or used the shoe before will tend to know what the users say about it. Even those that have used it before would still like to gain some knowledge on the opinions of other users. This is why this content provides the researched information on what the users and customers of Nike Air Max 97 think about the product. Their reviews are categorized into comfort, satisfaction and dissatisfaction. Since people sometimes find customer rating helpful when buying a product, this post therefore ensure such information are provided to help you know what you need to know regarding customer inclination for the shoe.
Comfort
In this category, customers and users express their thoughts towards the shoe. This is based on how comfortable they are with the shoe when they put it on. As this will be very helpful for people that like the shoe that make them feel comfortable, the following are what the users of Nike Air Max 97 say.
Many customers point that the shoe is very comfortable but argue that the original version looks better.
Some other users admire the comfort the shoe offers
some customers think it is very comfortable especially for people with narrow feet
Most of the users give complement for the comfort of the shoe
Satisfaction
The term satisfaction in this category refers to how satisfy the users of Nike Air Max 97 are based on its quality, design, durability and functionality. Apparently, customers tend to give their thought when they used a product that offer them the kind of service they expected. This is probably the reason there are many reviews on the shoe. After going through different reviews with the mindset of knowing what Nike Air Max 97 users really think about the product, the following are the important points that were obtained.
Most of the customers recommend the shoe
Most users really fancy the look and style of Air Max 97
Users claims they are very impressed with the attention they are getting when they have the shoe on
Most customers confirm and admire the high quality of the shoe.
A user comments, "I only wear these for casual wear or go lift at the gym. They look good with some pants on, sweats or shorts. I can wear them all day and they feel comfy. Comfort is everything for me. That being said it took a couple of wears to break in, the shoe was tight on my toes."
Most users respect the design and style of the shoe
Some customers say the Air Max 97 definitely worth the price.
Many customers say they do not regret buying Air Max 97
Majority are happy with the fitting and durability.
Dissatisfaction
As there are comfort and satisfaction categories, so there is dissatisfaction. This post would not have been completed without letting you know the negative part of Nike Air Max 97 Review. Yes, the product has negative part. Not everyone has to be happy with every product. There are some people that think the product is not good, and they have their reasons. After couple hours of research, I have had the chance to come with some reasons why some people are not very happy with Air Max 97.
After going through all the 179 customer reviews on Foot Locker, I could hardly find three reviewers that do not recommend Air Max 97. Almost all those three users make nearly positive comments about the shoe. One of those customers is not happy because he got wrong size and color, but he gave 100% rating for the size, fit, comfort and durability.
When I could not find enough negative reviews on Foot Locker I went on to Nike official website and some other websites that sell Air Max 97. The following are the few negative remarks some people make regarding the shoe.
After some users gave their positive remark on the shoe and recommended it, they have another thought which is, "the originals look better."
Some customers complain about the fitting of the shoe and think it will be more comfortable for only the people with narrow feet
few users recommend going for a size half higher than your normal shoe size
Some users say the white ones get dirty quite easily, but you cannot expect more
Rating Breakdown
Customers often look for other customers rating on a product when they are in decision-making stage. After some hours of research, I finally came up with the charts below which indicate how Nike Air Max 97 users rate the shoe from 5 to 1.
Note: This is the type of rating you would find on Foot Locker. There are just very few customer reviews on Amazon and Nike official website generally on Air Max 97. RunRepeat has rating on different types of Air Max 97. You may check it out, if you are looking for customer rating on specific Air Max 97.
Conclusion
Nike Air Max 97 is one of the best Air Max shoes Nike has ever produced. The style and the design of the shoe are awesome. The price is high, but most people think it worth it. Air max 97 shoes are available in different colorways and style. Rest assure you will find the one that fits you well and makes you feel comfortable.