Adidas Gazelle was first issued in 1968 as an all-around training shoe with a streamline profile and innovative cushioning that led to its popularity among the world top athletes. You probably already know that this low-profile classic trainer was first seen as a football trainer. Over the years, Adidas has produced the original Gazelle in different colourways without much change to the features.
To be honest, 1968 is quite old. That is about 51 years ago. Many millennial would probably not want to buy a shoe that is almost 51 years old. That is true! If I know a shoe is that old, I may not want to put my money on it! But, what if the quality of the shoe is great? What if It gives you what you have ever wanted in a shoe – comfort, durability, great style, etc? I would not mind going for it.
This post is metaphorically not about that 51 years old original Adidas gazelle. I can say nobody still has any 51 years old shoe in a store! What you could find in any store is the updated version with better quality and probably the same colourway that looks way better than some model shoes – that is why they are classic.
Adidas Gazelle (1968) version was updated in 1991, with the same materials, colours, but a little change in proportion (wider proportion). The one shown below is the 2014 edition that comes in a black suede upper, Adidas three stripes signature, the gold branding and the Adidas original tongue logo.
You can have a look at the Adidas Gazelle OG here
Adidas Gazelle is no longer for footballers and other athletes only! The trainer has extended its boundaries and can now be found on the feet of many pop stars and celebrities.
People like: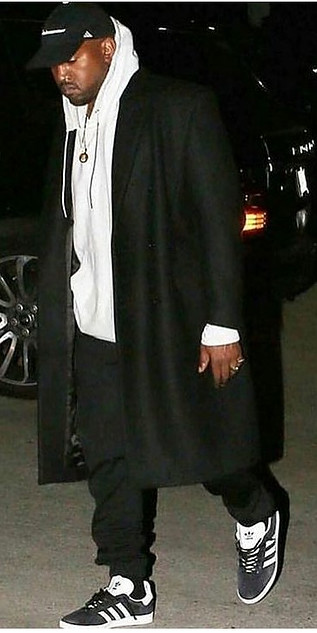 and many others
Below are the features you would find in Adidas Gazelle Core Black White.
Three side stripes Adidas signature
Black suede upper
White rubber outsole
Lace-Up closure
Colourway: Black white
The Adidas Gazelle is one of the most popular shoes Adidas has ever released. I have done some research on what the users really think of this classic trainer. After the research, I decided to categorised all the information into comfort, satisfaction and dissatisfaction. As if that is not enough, I went further to provide the rating breakdown from three well-known sources.
Comfort
In this category, the users express their thoughts regarding the comfort of the trainer. They consider the quality, style and the features incorporated within it. Since everyone has different opinions on what they think of the shoe's comfort, I decided to focus on the high number of users that express their thoughts of comfort in terms of the quality, style, features and the overall look of the shoe.
Here are what you should know:
Most users recommend the Adidas Gazelle because of its comfort
Many customers regard this trainer as very comfortable
There is quite a good number of reviewer that admire the look of the shoe
Fit true to size and amazingly comfortable are what some users say
Satisfaction
Here, users express their satisfaction based on the quality, durability, fit, style and price of the Adidas Gazelle.
You can go through what they think of the shoe below
A high percentage of customers recommend Adidas Gazelle Core Black White
Many users regard the shoe as a perfect fit
Some users say the shoe comes with white and black laces but prefer using it with white lace as it looks better with the white
Many reviewers regard Adidas Gazelle as a very nice surprise gift
The Adidas Gazelle looks and feels great are the opinions of many users
My son, partner, husband and friend love it is the comment of many customers
Many customers regard the price as fair
Many reviewers are pleased with the shoe
A customer say the shoe is everything he expected it to be – great quality, great fit and great price
Dissatisfaction
Is there any product that has pros without cons. That is possibly impossible. Okay, maybe to me, a shoe can have perfect features – everything I have ever wanted in a shoe. However, my taste of colourways, features and styles is different from others. In this case, what seems perfect to me may be awful to others. No matter how perfect a shoe is, there are things some users will point out that make them give it thumbs-down. That is why this category is included in this content.
Few users have expressed their thoughts on why they are not completely satisfied and feel comfortable with all the Adidas Gazelle has to offer. The information below will not include the users customer service experience. The reason is that I want to focus on reviewer opinions on the shoe not on the site or store selling it.
Here are the reasons some reviewers do not think the shoe would be their favourite:
Few reviewers complain about broken sole
Quite a very few reviewers say there are fake versions of the shoe
Very few users complain that the shoe produce squeaky sound
Rating
Customer rating is a very helpful tip for some people who are not sure of what to do when it comes to buying or not buying a product. For this reason, I tried to make sure this post contains enough information on customer rating.
The charts below provide the data that will give you quick overview of the liking of Adidas Gazelle.
The shoe is rated 4.6 out of 5 stars on Amazon
It is rated 4.7 out of 5 stars on Adidas
It is also rated 4.7 out of 5 stars in Office
How does it look on feet?
Here is a quick video
Conclusion
All-around training shoe, all time classic, vintage, iconic are the words people usually used to qualify the Adidas Gazelle. The shoe has been a staple in shoe industry for over half a century. Its popularity never stops to grow. That may be because of its quality, design, durability, features and all it has to offer for the fans.
The shoe is considered as very comfortable, good quality and good design, and still gets thumbs-up for the price. Adidas Gazelle is available in different colourways, and therefore giving the fans options of different tastes.
Please leave a comment. Have any question? Leave it below and I will get back to you.
Also, let me know if you see anything that is not right about this content.